"Just two weeks ago I sat next to her trying to house school a little girl who refused to even TRY to scan letters … then yesterday evening, she gave me a note. "
I have expressed quite clearly my concerns about my daughter's reading. I think the main problem is that we were responsible for his learning in isolation. It not only worried me if I was teaching her well enough, but I was also worried that I had pushed her too hard, not enough, and it made me comparing her with her older brothers. And I'm sure they even read just a line here or there halfway through kindergarten.
The pressure was therefore there. I knew that as soon as everything "clicked" for her, she would take off in leaps and bounds. I was just afraid we would never get there.
Want to join the family? Sign up for our Kidspot newsletter for more stories like this.
"Helping a child learn to read is NOT fun"
Olivia will be six in September of this year. She actually loves to learn, but for some reason trying to teach her to read has always been a struggle for me. It's been such a struggle, I couldn't help but write about the pain here.
We took turns reading easy books together using our index fingers. We even read that of Roald Dahl The witches at bedtime for a more in-depth and longer story. She practices her words on sight every day. I even put them in my purse so we can take them out for a quick 10 minute refresh if needed.
But no matter how many times I told her the word is "MA", she would sit there the next day and say "Me?" Against the two-letter word.
We practice at home and when we go out. Image: provided.
I'm telling you, helping a child learn to read is NOT fun at all.
So when we were offered to road test a new learning toy, I replied to a simple email: "Is there any chance that this could teach my daughter to read?"
Clearly I was desperate, but after only two weeks with the Osmo, we have made great strides.
Osmo Little Genius Starter Kit
When the package arrived Olivia literally screamed. The Osmo Little Genius Starter Pack and Osmo Genius Starter Packs come with a base to sit your iPad. It's actually pretty awesome … as the name suggests! And they're currently on sale until June 29 with 20% off the total price on the Osmo website.
You download the games you need and then you can start playing. I say play … but it's really learning, just disguised as a game!
The starter pack comes with four games (ABC, doodle magic, costume party, and stories), all of which come packaged in great stackable boxes. All the parts are of very good quality and the boxes can stack neatly in a small tower and not take up too much space. And there's also a parent app for you to track your kid's progress.
We also tried the Genius Starter Kit which is aimed at ages 6-10 and includes tangram pieces, number, letter and word tiles.
Want more real life reviews? Coles' latest Best Buys sale features budget-priced sleep items, the old-fashioned IKEA kitchen gadget that shoppers never tire of, and common household appliances that get Australians in the mood.
The Osmo kit in action. Image: provided.
So did it help?
I can tell you that Olivia has come a long way over the past two weeks. Who knows if this was going to happen or not anyway, but I'm so in love with the Osmo I'm eyeing another kit for his birthday in September. But first, here's how it worked for us.
Every night my kids have a quiet reading time before bed. This usually means the boys try to read while Olivia is harassing them and everyone ends up yelling at each other.
Once we got the Osmo, it became Olivia's "reading time". For her, it was great – she got to play on devices while her poor brothers had to read novels.
I asked him to focus only on the pun during this "reading time". So, for about 20 minutes each day of the week, Olivia finished the words by probing the missing letters. There would be an image on the screen, with the incomplete word below. If Olivia put the wrong letter on the mat, the iPad would "see" her and tell her to try again. The reflector in the Osmo's base can see what's going on on the carpet in front.
She can tap the screen to hear the sound of the word and even get a hint if she gets stuck. The game adapted, giving her harsher words whenever she was right.
But the best part?
We had some peace and quiet thanks to the playing time shouting games between siblings!
While Olivia's reading progress has been steady and I'm no longer stressed about it, there is one thing that came out of nowhere that really shocked me.
My husband and I were lying in bed last night watching TV and Olivia came in and handed me a piece of paper. He said, "Today I played with the LEGO." The writer in me was instantly impressed that she even got "LEGO" correct with all caps. I blinked a few times and said, "Did anyone help you with this?"
She was standing there smiling. I jumped out of bed and asked his brothers, who barely looked up from their games. They certainly had NOT helped her. And she has done it several times since, saying different words.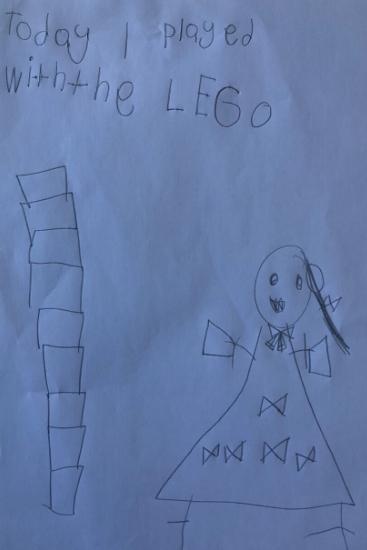 We focused so much on reading, but the writing surprised us! Image: provided.
Just two weeks ago, I sat next to her trying to home school a little girl who refused to even TRY to fathom letters. She was supposed to write a sentence, but I was also trying to work from home, so our days were filled with writing the first half of the sentence, like this: "My favorite food is …"
All she had to do was spell the lasagna … and no matter how many times I told her it wasn't about the spelling, it was about the sound, she wouldn't drop no letter without my approval.
The kid who was too afraid to make a mistake has become the kid who can pronounce his words, and now I've realized we're going to be fine in the reading department. And I'm pretty sure the Osmo has a lot to do with it!